Power of Community Summit
Feb 1-10, 2019
Educator, Workshop Facilitator, Sacred Journeys host
Makuini Ruth Tai surfs through the indigenous wisdom of her land, the patterns of nature, and the transition to care-taking and being present in a smaller circle. Being able to listen again to our true selves is a teaching she transmits, and firmly walking back to the land.
If you liked the video, share it with your friends on social media.
Introduction
Who you are, what brought you here
Indigenous wisdom, the patterns of nature and earning a living
Transition to caretaking and being present in a smaller circle
Being able to listen again to our true selves
Progress an the law of the land
Walking back to the land
Strengthening communities and unity of purpose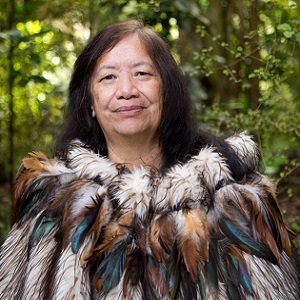 Makuini was born in Aotearoa New Zealand. She went on to teach, cultivate and help grow the fertile minds of children in schools. This led to a deep interest in human potential and the emerging quantum science.
In 1990 Makuini left her career as a teacher trainer for the state education system and became a seeker of truth.
As an Ambassador for Peace she has represented her country at peace events in Korea, USA, Moorea and Rapanui. As a Maori spirit guide she has hosted people from all over the world. Her unique presentations on whole brain learning and human potential are enriched by her explorations into Aroha - Love and The Sensuous Universe. In 2011 she returned with her husband Wayne to his homelands at Tapapa, where they are supporting to revitalise the hub of a traditional village following eco-sustainable principles.
References: