Power of Community Summit
Feb 1-10, 2019
Activist, Artist, Writer, Dine' Ceremonial leader
Pat McCabe weaves us through her tradition's Beauty Way and the Sacred Hoop of Life, and explores how Indigenous communities hold key knowledge to face climate change. Pat encourages us to learn to listen again and to reclaim the power of our consent.
If you liked the video, share it with your friends on social media.
Introduction
Indigenous communities and climate change
Beauty Way and the Sacred Hoop of Life
Paradigm is a choice
Learning to listen again
Reconnecting to the power of community
Reclaiming the power of our consent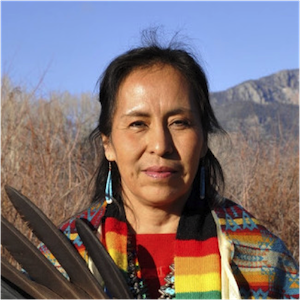 Pat McCabe (Weyakpa Najin Win, Woman Stands Shining) is a Diné (Navajo) mother, grandmother, activist, artist, writer, ceremonial leader, and international speaker. She is a voice for global peace, and her paintings are created as tools for individual, earth and global healing. She draws upon the Indigenous sciences of Thriving Life to reframe questions about sustainability and balance, and she is devoted to supporting the next generations, Women's Nation and Men's Nation, in being functional members of the "Hoop of Life" and upholding the honor of being human.
References:
Book by Cajete, Gregory and Leroy Little Bear - Native Science: Natural Laws of Interdependence. Clear Light Books, 2000. ISBN 1-57416-041-9